These films were commissioned especially for WYQS, inspired by stories from our collection and featuring participants from the project. They premiered at the Everyman Cinema, Leeds, in February 2020, followed by online watch parties in March/April, during the time of the Coronavirus lockdown.
I'm OK are you OK?
Matt Mead's film follows nine people telling stories from their lives in West Yorkshire, encompassing identity and intersections whilst journeying across the decades.
Each story is told with a mix of styles and formats, from archival film to digital video via VHS and oil paint. (Duration 21:30)
For more information, download the electronic press kit (PDF document).  
Please note the following content warnings: strong language, references to sexual assault, assault and suicide.
A director's cut of I'm OK are you OK? can be viewed on Vimeo. Please note that this version includes a new segment about a porn producer, which includes explicit sexual imagery.  
Riding West on a Walrus Tail
UPDATE! We're sorry but this film is not currently available as, excitingly, the filmmakers are busy submitting it to film festivals.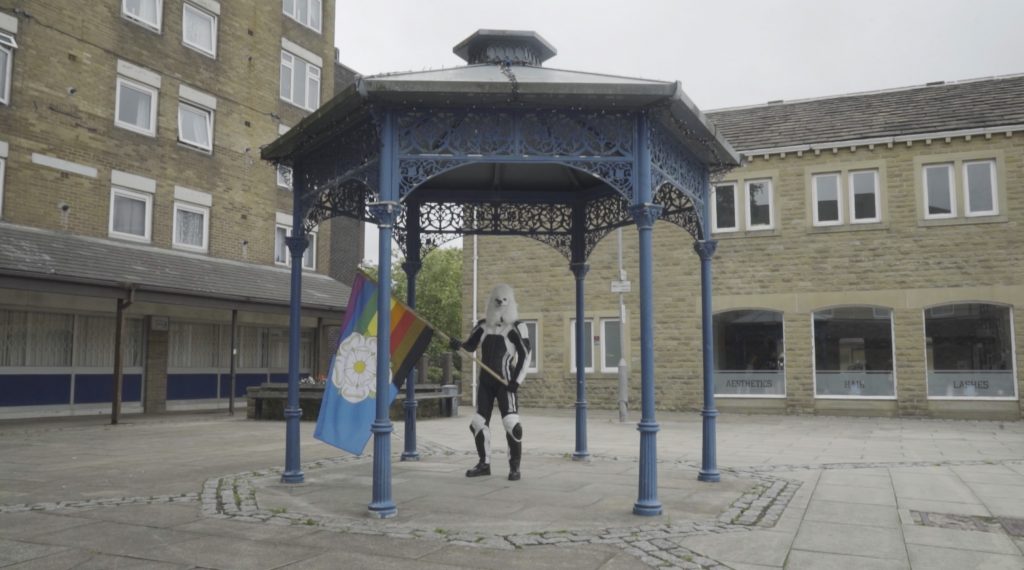 Jesson Hill's audio-visual queer storybook combines a sequence of chapters or short stories exploring West Yorkshire queer identity in its many shapes, forms and colours.
The county's urban, industrial and natural landscapes becomes the stage for the surreal and magical to occur. (Duration 27:29)
Please note the following content warning: strong language.
Lesbian Visibility Week: Watch Party
Here's a little bonus film for you!
We compiled this selection of shorts from our Nine Queer Objects films to celebrate the UK's first ever Lesbian Visibility Week, and premiered it as a watch party on Facebook on 24th April 2020. The stories included are:
Lesley's Jumpers – Lesley was a founding member of Leeds Lesbian Line and knitted jumpers in the early 1980s to celebrate lesbian experience.
'That's Something for You to Take Back to Yorkshire' – Linda from Yorkshire braves the Gateways Club in 1970s London and has her first dance and kiss with a woman.
Jacqui and a Drag King's Sideburns – Jacqui's mother sadly passed away but she has a unique way of keeping her memory alive within her drag act.
Deirdre and Gay Abandon Memorabilia – Deirdre shares some items and anecdotes from the history of Yorkshire's long-running LGBT+ choir, Gay Abandon.
(Total duration 19:35)