"I had a strong urge to go to Mumbai to celebrate Pride"
I'm writing this during Lesbian Visibility Week, thinking about the layers of my own identity, my life, and the extremes of my own visibility as a gay British/South Asian woman...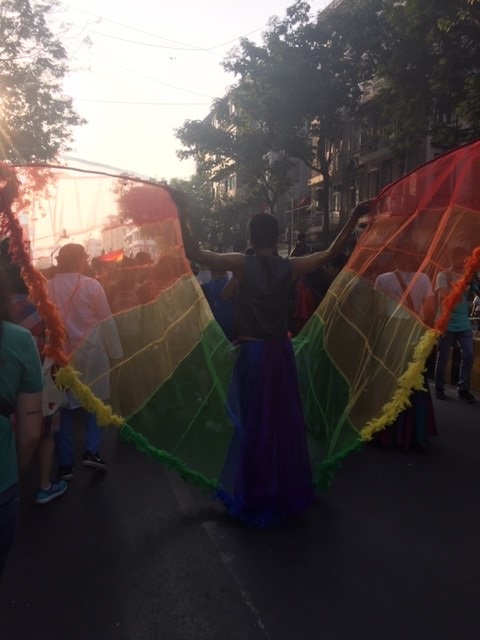 Sometimes I am cautious; my queerness concealed and tightly contained. Usually when I'm around my grandma, or at a cousin's wedding, feeling the curious glance of an aunty-ji upon me, silently yet somehow very loudly questioning "why isn't she married yet?". Other times, I might as well be standing there shouting, "Oi, yes, over here, put that spotlight on me, I. AM. SO. GAY." Flashback to my most recent birthday, at an after-party of a queer arts festival, outrageous dancing, captured on camera looking thrilled by the drag king performance happening right in front of me. 
On an average day, you'll find me somewhere between the two. (States of being that is, not the two drag kings. Woah.)
Growing up, I felt this push and pull between two different cultures, and not really feeling a part of either. Throw my sapphic tenancies into the mix and you have the added confusion of feeling different but not being able to explore it – hetero sex and relationships were never discussed in my community, let alone LGBTQ+ issues, so I never thought that anything other than settling down with a nice Indian boy was an option for me. After my first brief romance with a woman, I firmly told myself "nope, I can't be doing this, Indians can't be gay" and attempted (largely unsuccessful) relationships with men. Fast-forward ten years, and now my place of existing in between two cultures is very rich, takes the best bits of each, and is shared with my LGBTQ+ identifying PoC and South Asian friends. It's a beautiful, supportive, non-judgemental and nourishing place. You truly learn more about yourself when you find other people like you. I also came out to my amazing mum and she is accepting, for which I am so grateful and so lucky.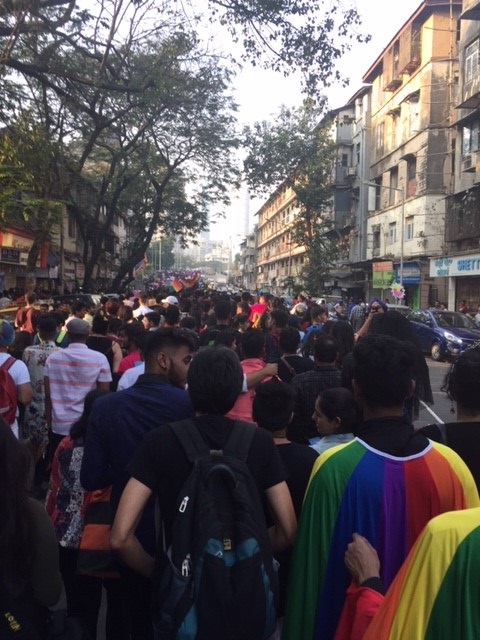 Section 377, a law which criminalised homosexuality in India – put in place by the British during colonial rule – was overturned in August 2018. I had a strong urge to go to Mumbai to celebrate Pride the following February, so I went. Over the years, at Pride and LGBTQ+ events in the UK, I have felt like a minority within these spaces, so being in Mumbai, meeting and making connections with queer people there, being one of the thousands of brown faces in the parade was overwhelmingly validating. No corporate sponsors. Just lots and lots of queer brown people celebrating their identity and having hope for the future.  The first mainstream Bollywood film with a lesbian storyline challenging homophobia was released when I was there (Ek Ladki Ko Dehka Toh Aisa Laga) – this again was a pivotal moment for myself and so many South Asian queers all over the world seeing such issues being addressed, by a film industry embedded in our culture. I sat in the dusty, art deco cinema unable to stop crying. 
Although the law has changed, we must still push for LGBTQ+ rights and acceptance. Homophobia within India and diasporic communities around the world is still deeply ingrained. But the truth is that LGBTQ+ people of colour are absolutely everywhere and have been forever. It's powerful and hopeful to finally see some representation. I mean, the mainstream media does need to catch up – the first South Asian lesbian couple on EastEnders only appeared this year – come on! But when I open up my Twitter and Instagram feeds, I have instant access to an ever growing list of QTIPoC artists and performers, collectives and organisations. An accessible, vibrant community in this corner of the internet. There are QTIPoC club nights in London and Manchester. Some are sober club nights. Some are taking place on Zoom right now during this global pandemic, so me and my northern friends can easily log on and not even have to think about London train prices.
Closer to home, Our Space in Leeds is a QTIPoC arts hub and place for community events. It's incredibly inspiring for me to hear interviews in the WYQS collection, such as Norrina's – being a visible lesbian in Bradford in the early 90s, her defiance when dealing with homophobia, and her vital work in supporting QTIPoC young people in the city. Many people of colour feel that to freely be your true, queer self, you need to escape your hometown and distance yourself from your community. Honestly, this is a conflict I sometimes face, but over the past few years I have been involved in organising various LGBTQ+ focussed arts events, talks and an exhibition in the city, being as visible as I can be, on my own terms, with my own quiet confidence, and right now Bradford is exactly where I need to be.